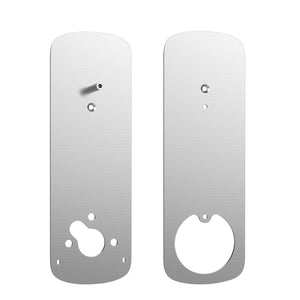 -Stainless steel
-Covers up holes left by previous deadbolt
-Works with Ultraloq Latch 5 Series, Ultraloq UL3, Ultraloq UL3 BT
-Ultraloq smart lock is not included
Dimension: 
Width: 74mm
Height: 223mm
Hole diameter: 55mm
Customer Reviews
Write a Review
Ask a Question
08/25/2023
Matthew H.

United States
I recommend this product
Good product poor documentation
Product works just fine, but didn't come with documentation, so required some trial and error. Ordered a second one and it came with documentation ironically…
09/07/2022
Ken L.

United States
I recommend this product
Covers Hole Nicely, Needs Outside Gasket
This works very nicely to cover up hole from removed deadbolt locks. Gives it the professional finishing touch. Only issue is that outside lock has rubber gasket on it (usually water tight seal to the door) but the outside plate (that is now touching door) did not. I noticed water and moisture was getting between door and outside plate (and the outside portion of the lock) after heavy rainstorms. I made one out of some rubber that I had around, but it would be nice they would include it or have it available as an option if you are installing on outside door exposed to the elements.
09/27/2021
Michael M.

United States
I recommend this product
Great looking plates
I purchased the lever lock and didn't realize that it wouldn't cover both lock holes in my doors. I contacted support and they told me to order these plates. The plates provides additional coverage for the 2nd hole. The plates look great and they are heavy duty. However, support was not correct. These plates will not fit the lock as shown in the video.