Latch 5 Fingerprint
Overview
Ultraloq Latch 5 Fingerprint is a smart lock designed to be "Real Keyless". You are free to use your fingerprint, smartphone app, code or key to unlock. Built-in WiFi allows you to control the access with no hub required while you're away from your home and monitor all activity remotely.
4-in-1 Keyless Entry Smart Lock
Bluetooth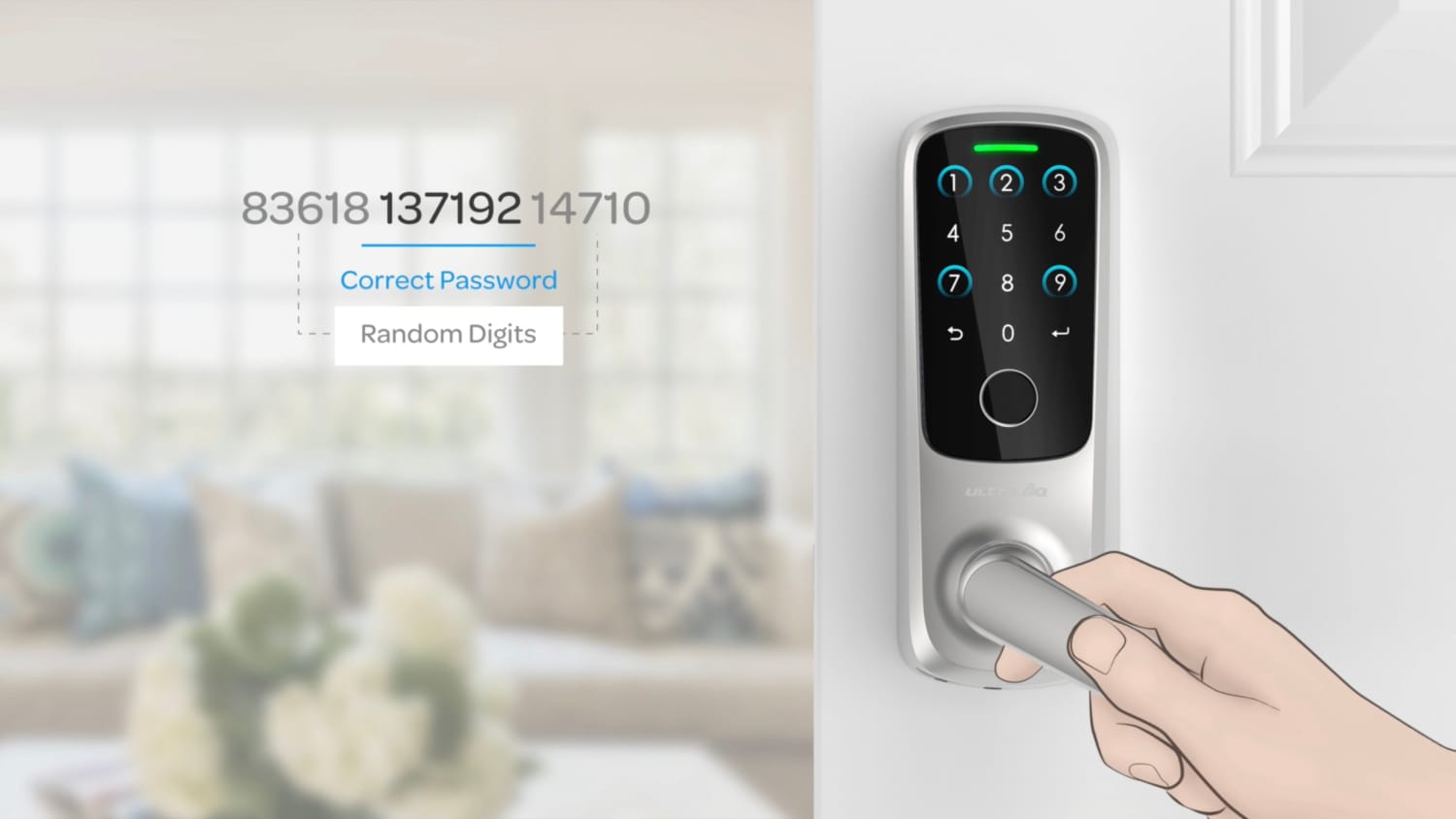 Your Finger is The Key
Featured with 360° Live Fingerprint ID. Unlocks in just 0.3 seconds* with 99.8% accuracy powered by AI self-learning fingerprint algorithm, which improves over time.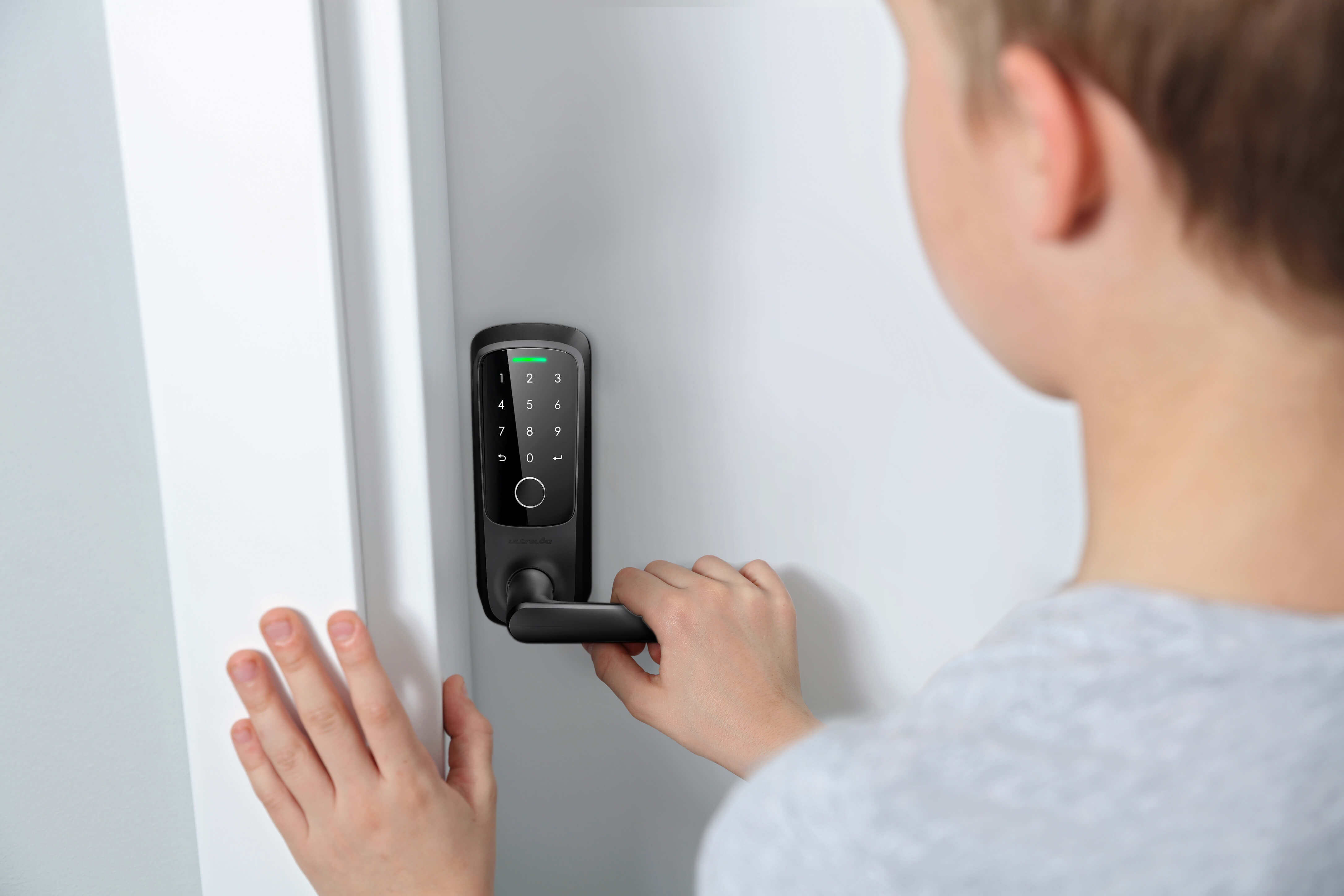 Smartphone App


Share EKeys


Grant access for specific dates or times.
Knows who has the access to your lock and how. Add or delete users any time you want.
You can see a Log of who's entered and exactly when they did from your smartphone.
The U-tec App enables you to unlock your door with your smartphone.
Dashboard
Smart Notifications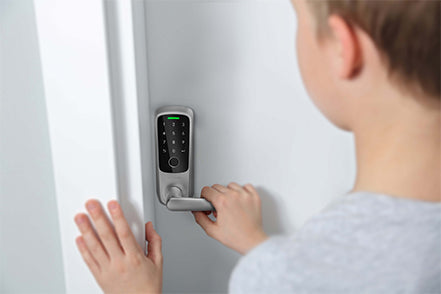 Brand Recommended By
"The all-around best smart lock."

"The best smart lock."

"A near-perfect upstart."
Compare
Feature
Built-in WiFi & Bluetooth Connectivity
Fingerprint ID
Auto Lock
Touchscreen
User Defined 4-8 Digit Code
Mechanical Key
Smartphone Control
Temporary Fingerprint ID
Temporary Code
Temporary Ekey
Remote Access
Unlocking Alert
Unauthorized Attempts Alert
Multiple User Permissions
Smart Home Integration
Works with Alexa
Works with Google Assistant
Works with IFTTT
Works with SmartThings
Latch 5 Fingerprint
Other smart locks
Accessories
Specifications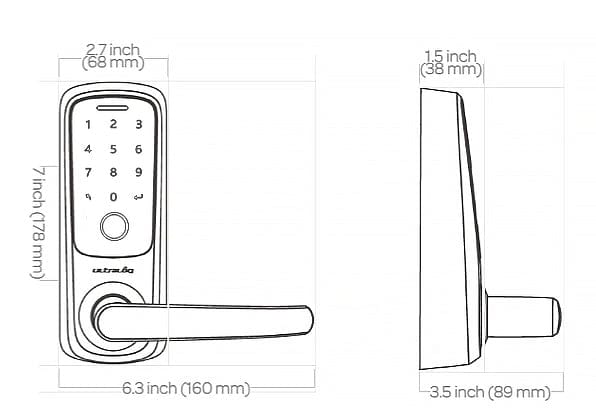 Fingerprint
360° Live Fingerprint ID
Identification Time < 0.5 Sec
FAR (False Acceptance Rate) : >0.00001%
FRR (False Rejection Rate) : >0.001%
Code
User defined 4-8 digits
App Control
iOS and Android Compatible
Storage
Users: 50
Codes: 50
Fingerprints: 100 (2 per user)
Weight
5.5 Pounds / 2.5 Kilograms
Dimensions
3.5 x 6.3 x 7 inch / 89 x 160 x 178 mm (front panel)
3.3 x 6.3 x 7 inch / 84 x 160 x 178 mm (back panel)
Working Temperature
External Assembly: -4 °F ~ 149 °F (-20 °C ~ 65 °C)
Internal Assembly: 14 °F ~ 131 °F (-10 °C ~ 55 °C)
Case Material
Strong zinc alloy
Working Voltage
6V (4×AA batteries included)
Battery Life
Up to 1 year (8,000 times access)
Connectivity & Integration
Connectivity
Bluetooth, WiFi
Remote Access
Yes, Built-in WiFi
Compatible Smart Home Eco-system
Alexa, Google Assistant, IFTTT, SmartThings
Door Thickness
1-3/8" - 1-3/4" (35 - 45 mm)
Warranty
18 months electronic warranty and lifetime mechanical warranty
Exterior Assembly * 1
Interior Assembly * 1
Interior Assembly Mounting Plate * 1
Handles * 2
Spindle * 1
AA Batteries * 4
Screwdriver * 1
Screws * 11
Strike * 1
Latch * 1
Backup Keys * 3
Spring * 1
Manual * 1
30

days
money back guarantee

18

months
electronic warranty

Free

US shipping
over $99
Find the best Ultraloq for you